archives
January 23, 2012
mothering
One of my mothers died today. I have had the good fortune to have more than one. The one who died today taught me how to keep putting one foot in front of the other despite everything. Everything. Thank you, Marion. I hate that you're gone, but I know you had to go. It is my fervent hope that Ruthie stretched out her hand from the light this morning, smiling gently. Goodbye, lovey.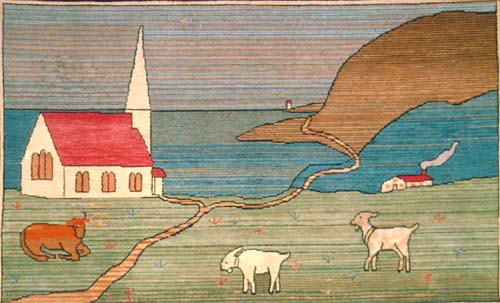 The Road to Fishing Point, St. Anthony
via
Newfoundland and Labrador Heritage
December 10, 2011
antipodean antidote to a cold season
In an attempt to stave off SAD, we've moved on to:
We didn't go all the way to the end of
Going Sane: Maps of Happiness
. I guess you could say we got lost along the way to happiness and stayed nuts. I've linked the title to a review that makes it sound as though I should have battled through the repetitiveness of the opening chapters to get to the fun stuff.
October 22, 2011
near the end of daylight saving
Funny expression, that - "daylight saving." Long before solar energy panels, we dreamt of saving daylight, of moving it around to suit our purposes and lightening our burden of dark.
Eat Pray Love is finished. The next book is this random, quirky choice from the library shelf, chosen mostly for its lime green cover:
I think it will prove to be slightly more astringent than our last bedtime reading. Perhaps it will lead to peculiar dreams, like the one I had last week that ended with this zesty line:
"We shall feast on lice!"
September 22, 2011
the edge of light
It has been a year and a bit since Christine Lynds' death and I think about her often. The way I am honouring her memory this fall is by reading her favourite book to Mark at bedtime. We've gotten as far as the fiftieth bead.
My three I's for today: imagination, insight, inspiration.
July 24, 2011
no impediments

It's wedding season. Mark's sister just got married to her sweet man in their garden by the cove and we all danced and danced and danced.
All of Mark's siblings were there and many of the next generation, too, some of whom we hadn't seen for many years.
Coincidentally, the day after the wedding was our tenth anniversary, so altogether it was a weekend to reflect on the marriage of true minds, the remarkable life of genes and the passage of time.
Song of the Open Road
Walt Whitman
Allons! the road is before us!
It is safe—I have tried it—my own feet have tried it well—be not detain'd!
Let the paper remain on the desk unwritten, and the book on the shelf unopen'd!
Let the tools remain in the workshop! let the money remain unearn'd!
Let the school stand! mind not the cry of the teacher!
Let the preacher preach in his pulpit! let the lawyer plead in the court, and the judge expound the law.
Camerado, I give you my hand!
I give you my love more precious than money,
I give you myself before preaching or law;
Will you give me yourself? will you come travel with me?
Shall we stick by each other as long as we live?
***
Speaking of genes, I visited with my brother and his spouse as well. They came over from Vancouver and stayed in a big old Victoria guesthouse on Craigdarroch Road next to the Castle called Craigmyle House.
We're back home now and this is what is brightening up the garden this week.
October 6, 2010
Happy Birthday to my brother Dan!

Okay, so maybe it wasn't such a good idea to fly into St. John's during a hurricane. But the flight from Ottawa via Halifax was uneventful - actually, it was rather pleasant.
I flew with Porter Airlines, and there was something about their service that reminded me of the first time I was ever on a plane. It was 1963 and my family was flying out of Ottawa on our way to Brazil. Maybe it was just the samba music on the Muzak or the pointy-toed high heels on the flight attendant ...
The cute little lunchbox stumped me for quite a while. "Is orte French for snack or something?" I mused to myself.
Duh.
The day after Hurricane Igor slammed into Newfoundland, the weather was heavenly. I spent an hour lying on the grass up on Signal Hill in a state of bliss. Later Wendi and I drove over to Cape Spear to take a look over the eastern edge, then it was off for dinner with Angela and Val. Lunch with Daphne, knitting with Marion, a visit to Cupids to see Doug and Sandy and the
New World Theatre Project's
portable Elizabethan stage - it was all wonderful!
And some berries even got picked and eaten.
Thanks so much to David and Wendi for hosting me during a challenging week during which a storm raged, the power went out, trees fell down, and bureaucracies oppressed.
August 21, 2010
I've just come home from more than three weeks in Victoria where the grass was bleached, the roses were glorious and the rocky beaches were divine. Dallas Road just never gets old.
Someday we'll go back to living on some coast or other. In the meantime, it's wonderful to get the chance to visit. It looks as though I'll be travelling to Newfoundland this fall for a massive berry safari (and a week-long jaw with Wen). Can't wait!
March 13, 2010
Who is that bald man with the screw eye in his skull? He's my weird little string puppet that was originally a Christmas gift to my mother. Since her death, he has moved back in with us. He hangs around the house and occasionally flaps his arms and legs insouciantly. No one has ever managed to wipe that grin off his face.
While fiddling around on the
Canadian Museum of Civilization
site this morning, I learned a new word -
limberjack
. So the little fellow depicted in the photograph above has cousins who don't just flail about - they tap-dance. Who knew? Here's a
YouTube video
of a limberjack doing his thing!
Anonymous Works
January 15, 2010
I'm cheating. This photo was taken last January. My amaryllis should look like this right now, but in reality it's still a lifeless stub. That Christmas cactus is still blooming, mind you, and it's actually even more florid than in 2009.
I promise to take a fresh picture if the amaryllis suddenly decides, improbably, to burst into astonishing trumpets of bloom.
December 30, 2009
Ten years ago tomorrow, Mark and I were busily breaking into a charming little cabin in Ocean Pond, Newfoundland, not entirely sure if it was the one we had permission to break into. Legit or not, it was a lovely way to spend Y2K - the weather was clear and cold and the Milky Way glistened above us in the millenial sky.
And excuse me, but where the hell did that decade go? Happy New Year!
December 13, 2009
Seasons Greetings wherever you are and whatever you like to celebrate at this time of year. We'll light a lot of candles and await the winter solstice, which also happens to be Mark's birthday.
July 24, 2009
There's one more household project I'm beginning to think we should add to our list - start building an Ark in the backyard. Quick-like.
June 24, 2009
Mother Nature, or some other less impartial force, has intervened on behalf of the goutweed. Today there was the corpse of a groundhog in our front gutter and the pong of skunk hung in the morning air. Who knows what befell our poor rolly-polly little marauder?
June 10, 2009
Good weather is upon us, bringing with it an avalanche of maple seeds and a long list of garden chores. My, how the push mower squeals!
Somebody has been nibbling the wild violet leaves and goutweed in the garden - could it be the chubby groundhog we spied atop our compost pile yesterday?
Feb 09
Winterlude starts this weekend. It's a clever name, but it doesn't make me any happier about winter.
But we are learning how to skate and will soon be gliding down the canal, arm in arm, eating beavertails and remarking to each other that really, February isn't that bad in Ottawa. After all, we could have ended up in Winnipeg.
Nov 08
Really, I should have my own calendar, just like the man who nicknamed me Cussot in the first place. His months were named after the thirteen most important women in his life - I think geography would supply mine.
So this time of the year would be Newfoundland, or perhaps just Barrens. Oh, I'll enjoy the reddening of the maple leaves here in central Canada, I promise, but I'd rather be down on my hands and knees somewhere on the barrens, now that the first frost has kissed the partridgeberries.
Aug 08
Is that the sound of cicadas or am I just experiencing tinnitus? Mark and I are always arguing about the source of high pitched whines - no, ordinarily I'm not the one producing them. His hearing is slightly less sensitive at the higher registers where cicadas and lightbulbs sing, so there are times when I rush around trying to identify the source of a tiny buzz saw of a sound while Mark just looks vague.
It's August and it's cool. We are thinking of sacrificing a sheep to the Weather Gods in the backyard to show our deep appreciation. The AC slumbers, having been turned on only once or twice this summer. Our carbon footprint is on tiptoe. We are serene.
Speaking of carbon, we're flying to Victoria for a Knighton family do this month. Hmm, are beach stones allowed in my carry-on luggage? I'll be spending a bit of time in Vancouver to catch up with my brother Dan and his wife, too. Can't wait to see everyone!
Then we're going camping for a couple of days at Silent Lake Provincial Park. I'm getting used to the idea of planning ahead and making a reservation, but it sure isn't the same as our trips in Newfoundland where we had whole swaths of landscape to ourselves and camped wherever we liked. Like the time we set up our tent right next to a berry patch on the Skerwink Trail - here's a nice photograph of the trail on Flickr.
July 08
So far our reel mower is working just fine. No, that's just ridiculous -- it sure as heck isn't out there in the backyard cutting away on its own as I type. No, we are making the mower work, and it's fine. Interestingly, it cuts off grass blades, but not the wiry, foot-high seed plumes of crabgrass. It's like playing some sort of weird child's game. The mower rolls over, the stalks seem to get cut, then you look over your shoulder and they've all popped up again. Later you bring out scissors and finish them off for good. The end.
June 08
Here it is June already and we haven't even cracked open the one can of paint I so cavalierly bought a couple of months ago. There's so much that needs painting, it has been difficult to get started. Besides, I hate sanding.
And because it has already been hot, we've been keeping all the curtains closed during the day. The weird golden gloom the living room ones cast is good incentive to start working on some new drapes. We were both very fond of our Gower Street living room light - the drapes were just white sheets, but the effect was clean and calm. It has been many years since I've seen Fellini's Amarcord, but there's something about flapping sheets that always reminds me of that film.
May 08
What a lovely May it has been! The garden has gradually come to life and we have started to think about how we'll change the house to suit us.
It might have been a mistake, but we bought a reel mower. Neither of us could face the idea of filling the yard with fumes and noise. Oh, and the outside plug needs to be replaced.